The pandemic and post pandemic U.S. real estate market has been volatile, to say the least. A combination of factors, including initially low interest rates that steadily rose over the past two and a half years, an inadequate inventory of houses on the market, and a surging demand throughout, have created a perfect storm of sorts. But in spite of these factors, it appears that the home buying and selling portion of the market has come out stronger than ever.
The data over the past 30 months is illuminating. Looking at real estate portals Zillow.com, Realtor.com, Redfin.com, ReMax.com and Movoto.com from January 2021 through the second quarter of 2023, we found a steady increase in both seller and buyer traffic. While this increase on its own is not surprising (the country was emerging from lockdown, after all) it is notable that when the series of Federal Funding Rate hikes over this time period are overlaid, we find little sign of cooling in the real estate market.
As you can see in the two charts below, traffic volume on the sell side rose from 444K users in Q1 of 2021 to over 17.4 million by the end of Q2 of 2023, while buy-side traffic rose from 17.4 million to over 64 million.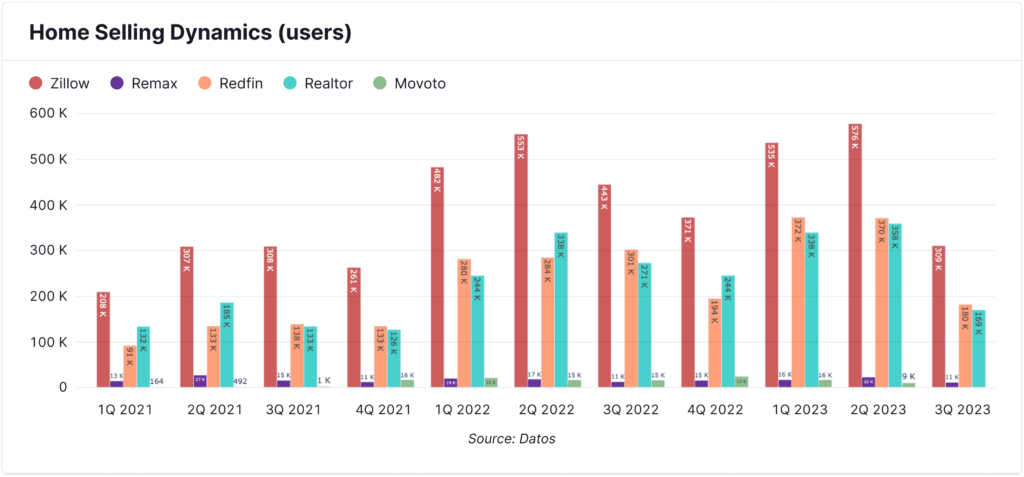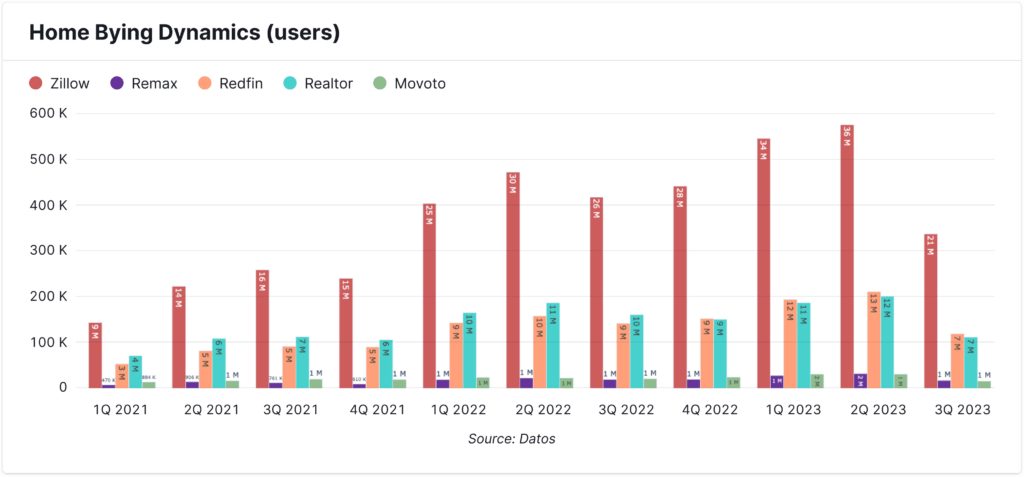 The 2021 growth is not particularly unusual, since Federal Funding Rates ran from 0% to 0.25% during this time, making mortgages more affordable than they've been in decades. However, beginning in late Q1 of 2022 we had 11 hikes to this prime lending rate over the next one and half years, making it 5.25% to 5.50% as of July 2023. Yet traffic to these sites has continued to grow on both the sell and buy sides, despite the worsening mortgage climate.
Admittedly the hikes may have slightly dampened buying enthusiasm on occasion, but there is every indication that these events only had short-term effects. For example, the Q3 2022 series of interest rate hikes may have contributed to a slight decrease in buyer intent during Q3 and Q4 of that year, but overall traffic volume remained high and demand still outpaced supply by about 470%. Then demand continued to rise in the first half of 2023, outpacing supply by around 673% as of Q2 2023.
It's not entirely clear the reasons for this behavior, but we can find possible clues in the most popular search keywords for buyers. 
Looking at the chart below, we find a strong bent toward self education, suggesting less sophisticated buyers flooding the market. Searches such as "How to buy a house," "Steps to buying a house" and information about necessary credit scores have consistently remained as top searches from January 2021 through August 2023.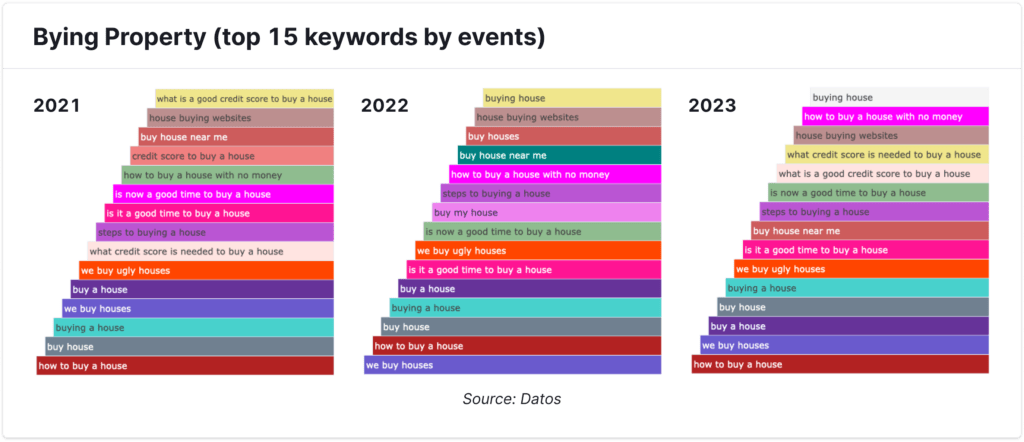 These factors might indicate that buyers had a lagging awareness of the rate hikes or simply didn't understand the impact. But whatever the reason, as of the writing of this report, Q3 2023 home buying intent is shaping up to equal and possibly exceed previous quarters, in spite of mortgage rates that continue to rise. So we must conclude that inflation-reducing moves by the Fed, while effective in many other sectors, have done little to slow enthusiasm among real estate buyers.
This insight, if proven to be true, suggests that real estate and lender marketing should invest heavily in home-buying education, especially in regard to their online presences. Being an authority on all things real estate would appear to be as important as promoting specific listings or mortgage rates. It will also better satisfy the needs of prospective clients, possibly even helping to pre-qualify them in the sales pipeline. 
This is a still emerging trend, so we will continue to monitor the real estate and mortgage spaces as we finish out 2023.