'Tis the season… to ask fundamental questions about consumer behavior, and the economy more generally. Will people spend more or less during the holiday season this year? What holidays items are hot? And which are not? And what does all this tell us about consumer mindsets in these volatile and unpredictable times?
There are many sources of data available for shedding light on these crucial questions. In this article, I'll utilize data about search behavior, perhaps the most pervasive form of digital behavior. What people search for online has become the most potent and responsive type of data for understanding immediate consumer needs and wants, and more broadly, their longer-term ambitions and anxieties. Are they bullish on the economy? Are they seeking things or experiences? Are they buying for others or themselves? Search behavior informs all of these questions.
Methodology: Data from Datos. I worked with a data set of search information collected by Datos, a global clickstream data provider focused on licensing anonymized, at scale, privacy compliant datasets. I asked them specifically for data about search behavior that takes place on Amazon; this kind of "on-site" search data is very insightful about consumer behavior on the dominant ecommerce site, but very hard to come by. With a focus on holiday shopping, I asked for consumer search data on Amazon in the United States during the period of November 1 through December 5, 2022.
What's Hot and What's Not: A Holiday Timeline
October into November: Baseline in Transition. Throughout the year, consumer shopping and related search behavior ebbs and flows. As we look at Amazon search activity on November 1, with the holiday season emerging, we see consumer needs in an evolving state. The top 10 search terms include classic consumer packaged goods staples, with "toilet paper" and "paper towels" ranking #7 and #9, respectively. But over the next few days, these terms, along with other household standards such as "light bulbs," would soon disappear from the top search terms for the remainder of the year.
Early November: Holiday Traditions Emerge. Search on Amazon has a year-round baseline of utilitarian searches such as CPG items, but against that background, holiday traditions emerge. On November 1, "Christmas decorations" emerge as the 2nd most searched term, and takes the top spot on November 2. "Christmas tree" will soon climb the charts. They will remain atop the list for at least another month (through the rest of our analysis). Even as recently as December 1, with actual holiday celebrations rapidly approaching, "Christmas tree" and "Christmas decorations" remained two of the top three search terms.
A holiday perennial: Gaming. While Christmas décor themes emerge as top search terms in early November, so too does another holiday perennial: all things gaming. The terms "PS5", "Nintendo Switch", and "pokemon", consistently popular throughout the year, rise toward the top of list, and will remain there throughout the end the year. Also along for the ride: peripherals such as "monitor" and "gaming chair", as well as occasional game titles such as "God of War".
Another holiday perennial: Tech accessories.At this time of year, you can think of Amazon as "Apple outfitters," with  "airpods", "Apple watch", and "iPhone case" emerging as widely searched terms. Further down list are storage solutions such as "ssd" and "external hard drive".
Sudden Spikes: Flashes in the Pan. As holiday trends emerge, so too does the occasional sudden spike of search activity related to a viral trend. On November 13, "Yellowstone" narrowly overtook the top spot, riding a wave driven by its release of season 5. On November 14, Yellowstone dominated the top stop, only to precipitously to drop out of the top 20 in the ensuing day. For those not in the know, Yellowstone is a modern day "cult classic" starring Kevin Costner, but unlike most cult classics, it is older-skewing and defies traditional media demographic thinking. Over the same few days, we observed similar dramatic rise and fall for controversial movie at the heart of the Kyrie Irving situation (we won't name it here, but will point out that Amazon charges $11 to rent the movie, $40 to buy it, and $50 to buy the hard-copy book!).
This Season's Hot Toy? Squishmallow. What, you may ask, is a Squishmallow? It's essentially today's version of a Beanie Baby. Launched in 2017, these widely-collected plush toys first gained popularity during the pandemic, and generated widespread interest on social media (they now have over 850,000 followers on Instagram). Squishmallow vaulted to the #2 search term by November 30, and has remained in the top tier ever since, partially boosted by the post-Thanksgiving interest in "stocking stuffers" (described below).
Thanksgiving, Black Friday and Cyber Monday: The Triumvirate of Holiday Shopping. Anecdotally, it seems as though Black Friday and Cyber Monday don't generate the headlines they used to. Certainly the pandemic put a damper on Black Friday, which had historically been an occasion for in-person sales. Another factor: the anti-commercial pushback against making employees work on Black Friday. And more generally, it feels as if holiday sales just don't generate the enthusiasm they used to. Perhaps it's a dampened consumer enthusiasm fueled by the weakening economy and rising inflation. Or perhaps marketers have simply trained consumers to wait for the sale — by overusing sales, marketers have sent to the message that sales "aren't real discounts" and another sale will be right around the corner. The confluence of all of these factors has resulted in the longer-term decline of interest in Black Friday sales. Google Trend data confirm this anecdotal perception – searches for "Black Friday" peaked in 2018, and are currently about half of those peak levels. Searches for "Cyber Monday" show a bit more variability, but essentially the same pattern.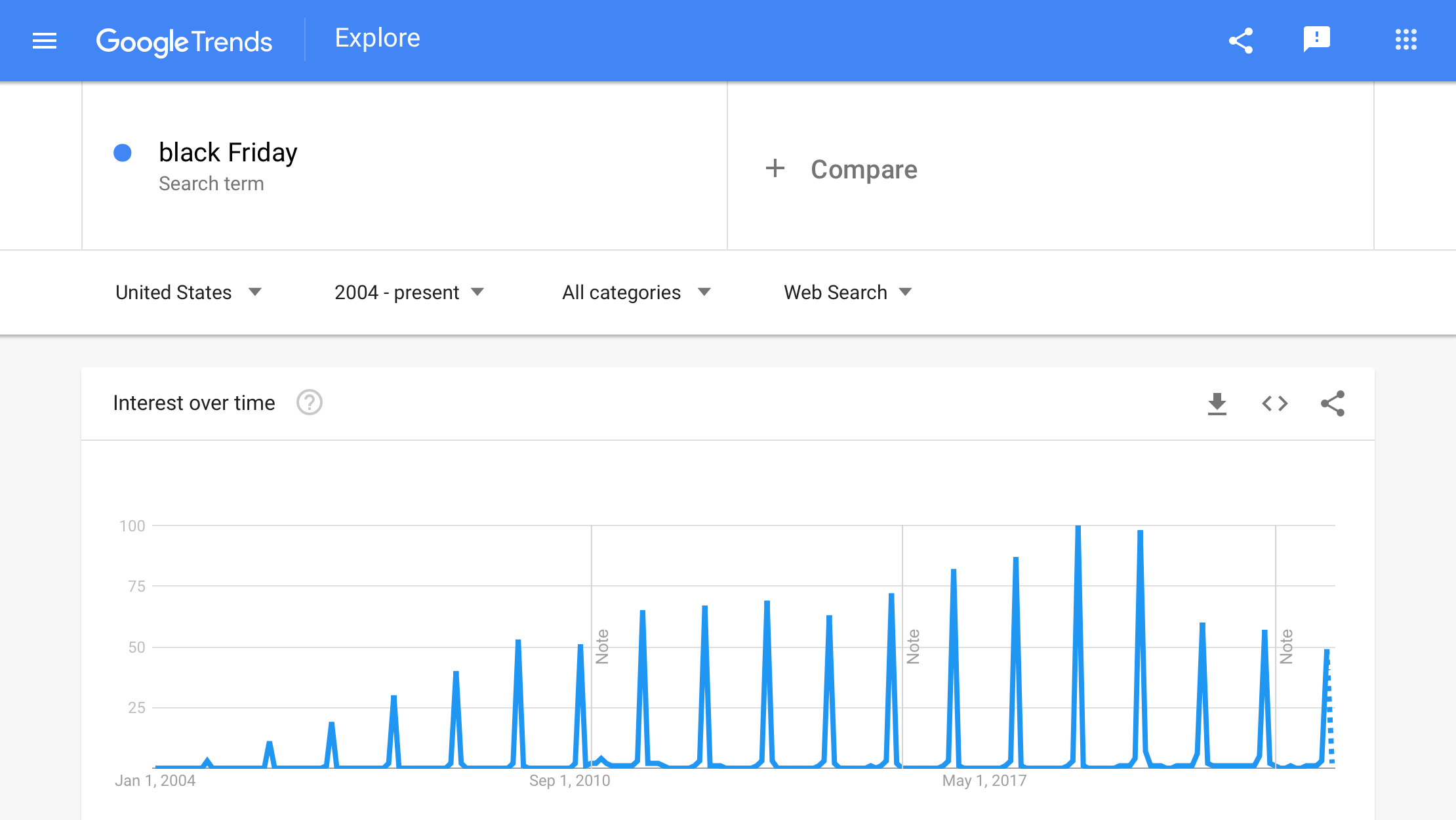 Source: https://trends.google.com/trends/explore?date=all&geo=US&q=black%20Friday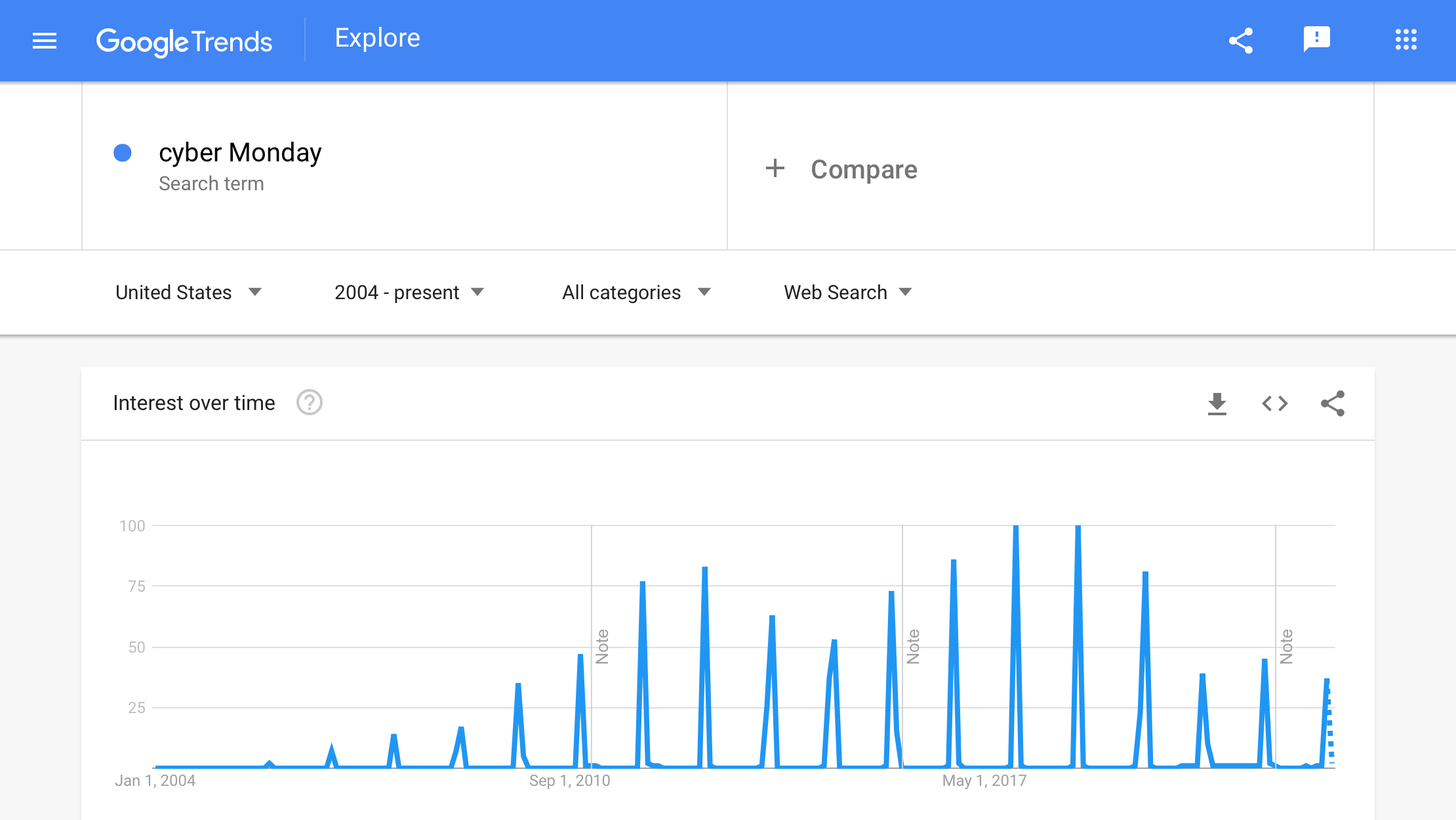 Source: https://trends.google.com/trends/explore?date=all&geo=US&q=cyber%20monday
Still, there is no doubting the sales boost that comes with modern retail holidays. Returning to our Datos-provided data set, we find that total search volume on Amazon doubles on Black Friday, and is nearly as high on Cyber Monday, compared to a typical day in November.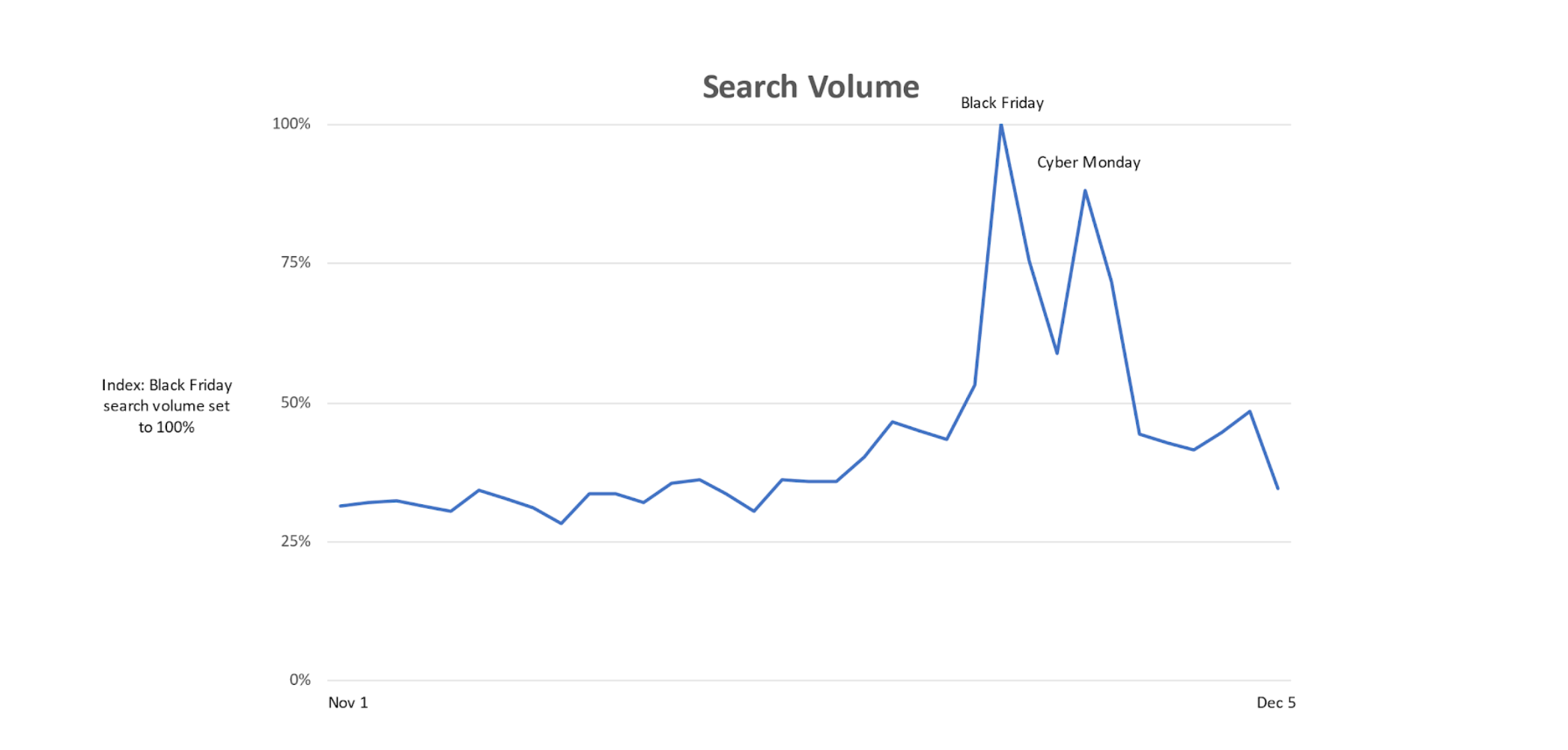 The search terms most prevalent during these high-volume days aren't appreciatively different from those on previous days. "Nintendo" and "airpods" generally top the list, although "lego", "tv", "ipad" and "tv" also generate significant interest. With higher search volume obviously comes greater interest in the season's top gifts. But it is also reflected in more interest in long-tailed keywords. Clearly, people are searching for less mainstream and more idiosyncratic gifts that are more customized to an individual's interests.
Early December: Tactical Holiday Shopping. As December dawns, a new mindset becomes prevalent. It becomes less about holiday décor and thoughtfully-customized gifts; it becomes much more about tactical holiday shopping, and the necessities of smaller holiday gifts. By December 3rd, three search terms have gravitated to the top of the list: "stocking stuffers," "white elephant gifts," and "gift cards" become a new big three that will dominate the top of list (at least through the end of our analysis on December 5).
In the final analysis, holiday shopping interests ebb and flow, with many different phases and personalities. At each stage, search data provides timely insights into consumer needs and wants.