The luxury goods market is surprisingly resilient, even in the face of harsh economic conditions. In this article, we take a look at one year of the luxury brand super group LVMH's web traffic records to determine why that might be.
"Louis Vuitton, the world's biggest luxury brand in terms of sales, is planning to dampen its expansion worldwide and focus on high-end products to preserve its exclusive image." So spoke Bernard Arnault, CEO of Louis Vuitton's parent company, LVMH at a press conference in 2013.
The idea was simple but counterintuitive. Decrease access to Louis Vuitton products to increase exclusivity. But can you really turn a profit by making your product harder to get? For Louis Vuitton, at least, the answer is yes.
In 2023, LVMH became the richest company in Europe with a valuation of over $500 billion. The company, which owns 75+ luxury brand subsidiaries, claimed this status on the heels of a pandemic induced recession that saw global retail sales plummet.
LVMH is far from being the only luxury company to thrive in the post-pandemic spending slowdown. As of writing, high-end retail brands possess 22% of the overall retail market share, up from 12% between 2018-2023.
Why does the luxury market remain steadfast in growth, even as the global economy shrinks? In this article, we answer that question with a combination of stats and web traffic patterns established by online shoppers visiting a wide range of different LVMH-owned online stores.
LVMH Overview
Founded in 1987 when Louis Vuitton merged with Moen Hennessy (separate brands which themselves merged in 1971) LVMH has grown to over 75 brands and counting. The company is:
France based
Sprawling, with over

5664 stores

worldwide, and
Reliant on the United States, which receives

40%

of its total deliveries.
It's also resilient. Retail has been on a roller coaster ride since Covid lockdowns began in March of 2020. Most brands got a boost when restrictions were finally lifted (LVMH shares grew by 3% when China opened up) but have since continued to dip. Not LVMH.
Their total sales growth rate is up 17% from where it was at this time last year, despite a cooling economy that has brought the overall luxury good projected growth rate down to 3% in 2023.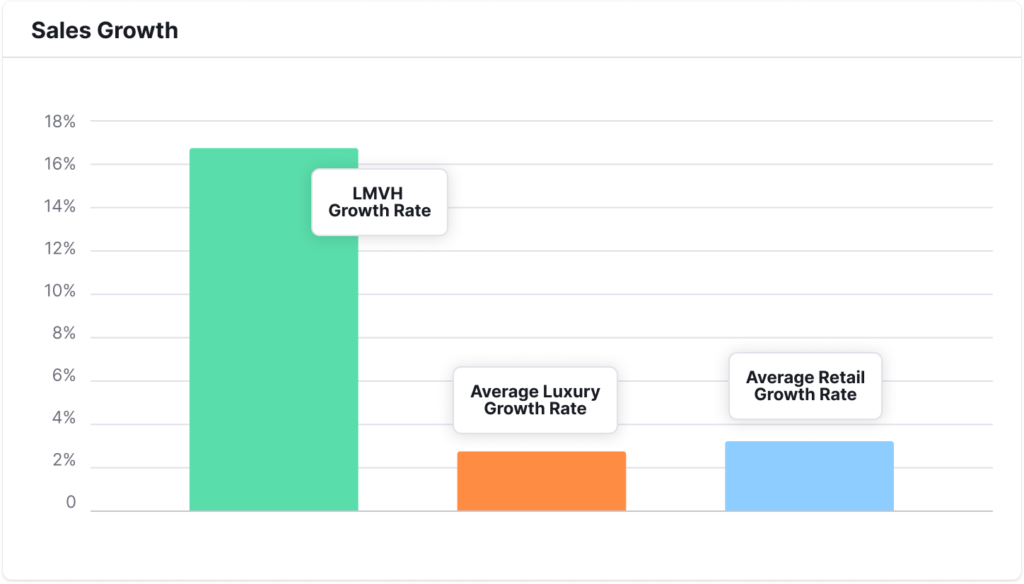 Their numbers go against the grain. People buy toothpaste and toilet paper during recessions. They don't buy $2000 boxer shorts from Dior (delivery, you'll be pleased to note, is free).
Except it seems some people do.  Is LVMH, with its recession-defying sales figures, and its self-imposed product scarcity defying conventional commerce wisdom, or simply playing the game at a different level?
Below, we continue to examine that question by taking a look at our LVMH web traffic findings.
Our Findings
The statistics below reflect web traffic to various LVMH-owned websites relative to the total volume of projected traffic. The figures listed below reflect percentage averages from May 2022-April 2023 for their top 10 highest-performing brands.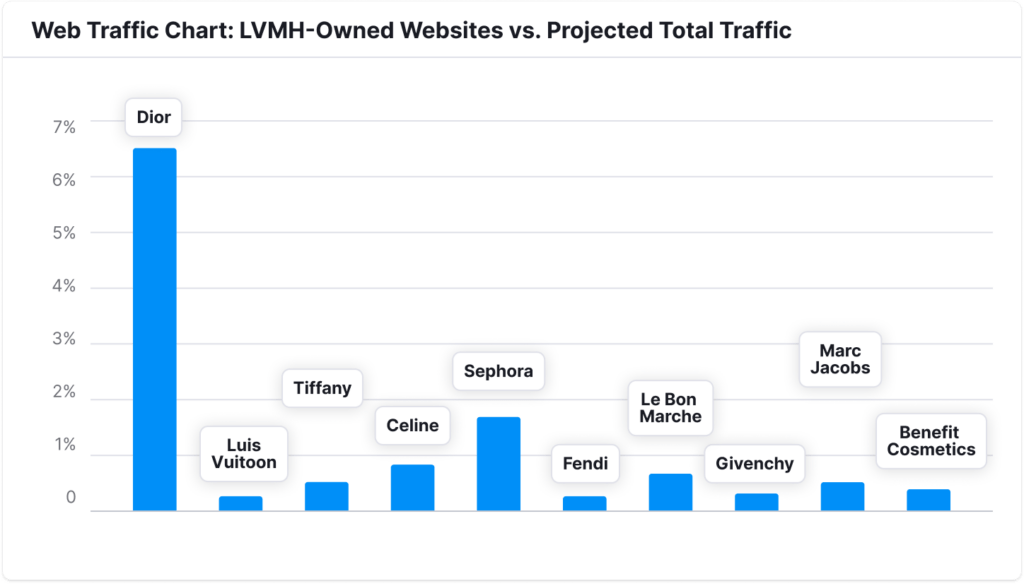 Our dataset contained traffic-related information on 56 LVMH-owned websites in total, all of which retained stable traffic figures relative to the overall market during the observation period.
Liquor search volume figures were relatively modest.
Belvedere came in at .17%,
Hennessy at .05%,
Moet at .09%
And well-known champagne brand Dom Perignon factored at .07%.
High-end alcohol sales have stumbled globally in the face of recent import tax trends. Alcohol is usually purchased in person, with online activity accounting for only 4% of total sales (for context, online fashion retail accounts for 42% of total sales). Alcohol-related revenue for physical and online sales at LVMH actually increased by almost 20% in 2022.
Cosmetic figures followed similar lines. Beauty product online sales figures account for between 10-20% of overall sales volume (depending on the study cited). Benefit Cosmetics, one of LVMH's top brands achieved 0.33% of the projected search volume. Similar numbers were shown by Aqua Di Parma (0.4%), Francis Kurkdjian (0.5%), and Givenchy (0.25%). Collectively, LVMH perfumes and cosmetics grew by 17% in 2022.
Interestingly, the popularity of online shops did not necessarily correlate with higher overall sales. For example, Dior and Louis Vuitton are two of LVMH's top revenue earners. Dior had a search volume of 6.6% and generated $8.3 billion in revenue in 2022. Louis Vuitton had a search volume of 0.2% but generated $9.9 billion in revenue. The two brands combined produced almost 2/3rds of LVMH's profit.
To better understand LVMH and its shoppers, it is important to understand how luxury buyers make their decisions.
An overview of luxury buying
Let's review the key points:
LVMH remains economically consistent, even when the global economy lags.
The company chooses to create product scarcity.
Web-traffic volume does not necessarily correlate with sales.
It's easy to derive a simple conclusion from these facts. Luxury products are purchased by wealthy shoppers. Wealthy shoppers have more money to spend, even during hard times.  But that only tells part of the story, as luxury retail spend was also heavily impacted by the pent up spending demand created during the pandemic lockdowns and the shifting of discretionary spend across all demographics from things like travel and dinner out to other retail categories.
That said, the luxury goods market does rely on a relatively small number of people for a significant portion of its sales. Ideal customers account for 40% of overall luxury sales. These are primarily wealthy people who like to make their purchases in person and derive a custom experience from the process.
But what about the other 60% that are helping LVMH thrive even during a recession and the uncharted post pandemic territory? Many of them are young buyers, often still living at home with their parents, with varying motivations and money to burn as the economy has heated back up.
LVMH creates its own value by successfully transcending the nature of what it sells. They don't sell handbags. They sell Louis Vuitton handbags.
By establishing luxury good ownership as an aspect of personal identity and self-expression, they make the product worth significantly more than the sum of its parts.
But to maintain that value, the buying experience needs to be groomed and protected. About 75% of luxury sales still happen at physical stores because luxury buyers want to experience exclusivity from the point of purchase onward.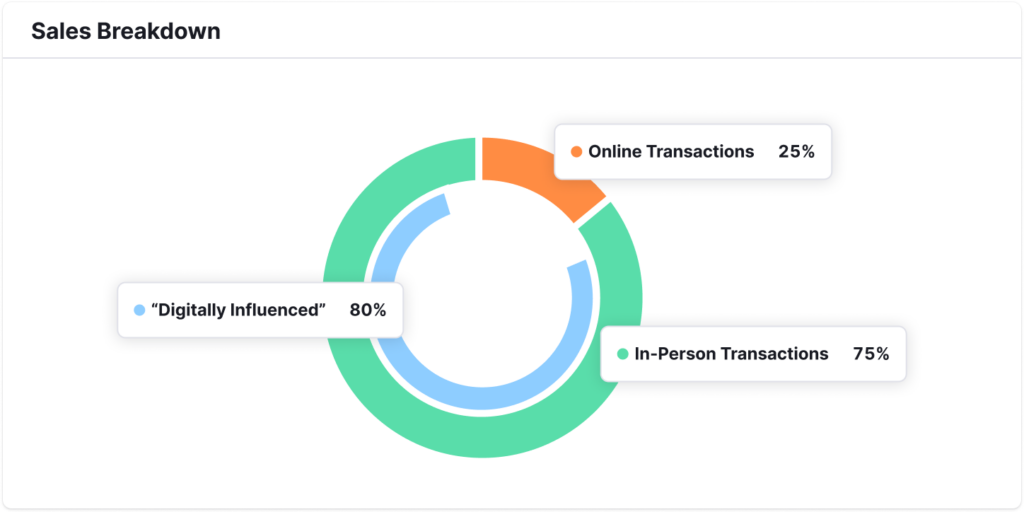 Of course, LVMH understands this. It's why, ten years ago, they chose to make Louis Vuitton handbags harder to get. It's also why luxury brands invest so heavily in everything from their store design to their customer service practices.
It's also why web-traffic patterns paint a complicated picture of the LVMH buyer. A person buying a $2000 Louis Vuitton handbag will typically want the experience of seeing it in person first and comparing it to other bags.
Web traffic does still play an important role in luxury sales. Almost 80% of high-end retail transactions are "digitally influenced." Customers find products and brands online but typically opt to complete their transactions in person.
Luxury marketers and sales representatives must balance this unique dynamic, providing a streamlined online experience that transitions seamlessly into the bespoke luxury of a physical store.