As Twitter morphs into X and continues to generate headlines for all the wrong reasons, a key question remains: which alternative platforms will benefit? Meta's Threads got off to a record-breaking start, but reports are that Threads' daily users quickly fell by about 50%, and is now estimated to be down by as much as 82%.
While several sites and platforms have been mentioned as "Twitter replacements," I decided to explore one overlooked candidate in particular: Reddit. I used data from Semrush, a tool best known for its search and traffic data, and from Datos, a global clickstream data provider focused on licensing anonymized, at scale, privacy compliant datasets
While Reddit admittedly lacks the same "live" or "real time" feel of Twitter, it does have a lot going for it, including massive traffic, strong name recognition, and a reputation for fostering self-forming communities. Let's start by looking at overall traffic. Reddit.com currently stands as the fifth most visited site in the United States, behind only Google, YouTube, Facebook, and Pornhub. It got 1.8 billion visits in June 2023, making it one of only ten sites to measure its U.S. monthly traffic in billions.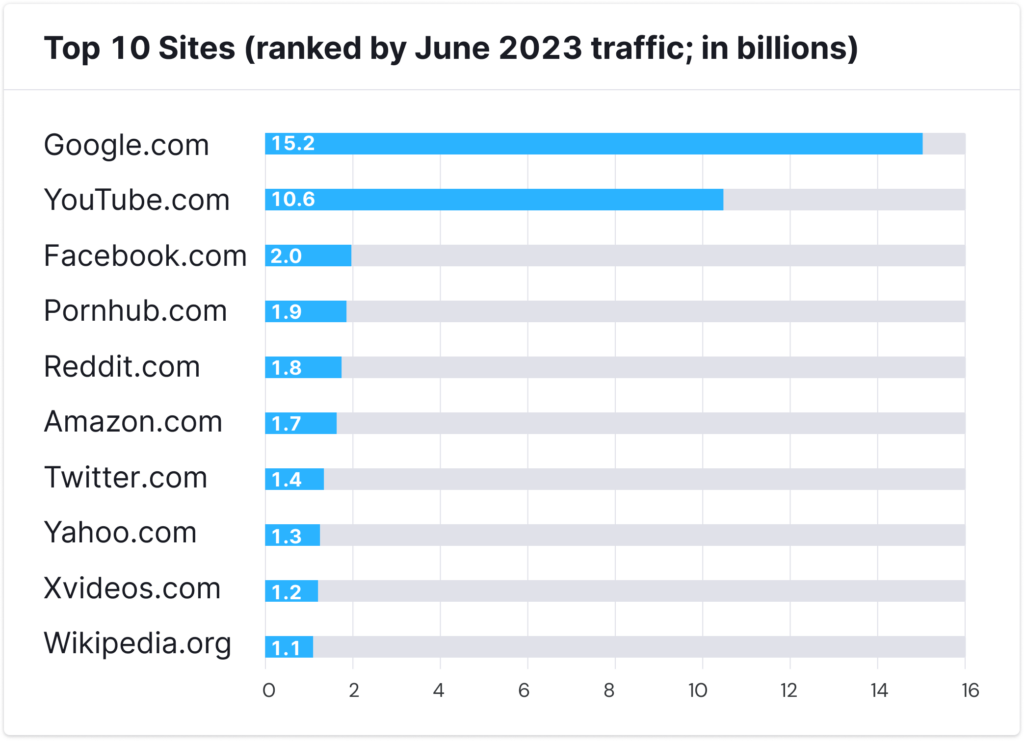 Source: Semrush
There's no doubt Reddit gets massive traffic. But a closer look reveals their trend has been heading in the wrong direction.
Many sites in the Top 10 saw modest drops in traffic in June 2023, mostly in the 10-15% range – a seasonal drop generally attributed to summer travel and kids being out of school (at the same time, there was a rise in traffic to gaming and entertainment sites). Reddit's drop, however, has been more significant, falling 24% since March 2023. 
If we look more specifically at the traffic Reddit gets from organic search, the pattern becomes even more clear. After a decade of consistent growth, Reddit saw a huge spike driven by its central role in the AMC stock bubble. 
But Reddit's traffic hasn't returned to its previous levels. Terrible timing for the controversy that emerged in April 2023, when Reddit announced it would begin charging for its application programming interface (API), a feature that had historically been free. While casual observers may consider that a niche issue, it was a big deal to the power users and group moderators that are central to the activity on Reddit. Protests of various forms followed, including developers stopping work on Reddit-related apps; moderators also took some subreddits private, and opened up some subreddits to not-safe-for-work content (making them more difficult to monetize through advertising). In a world of user-generated content, this was akin to a strike.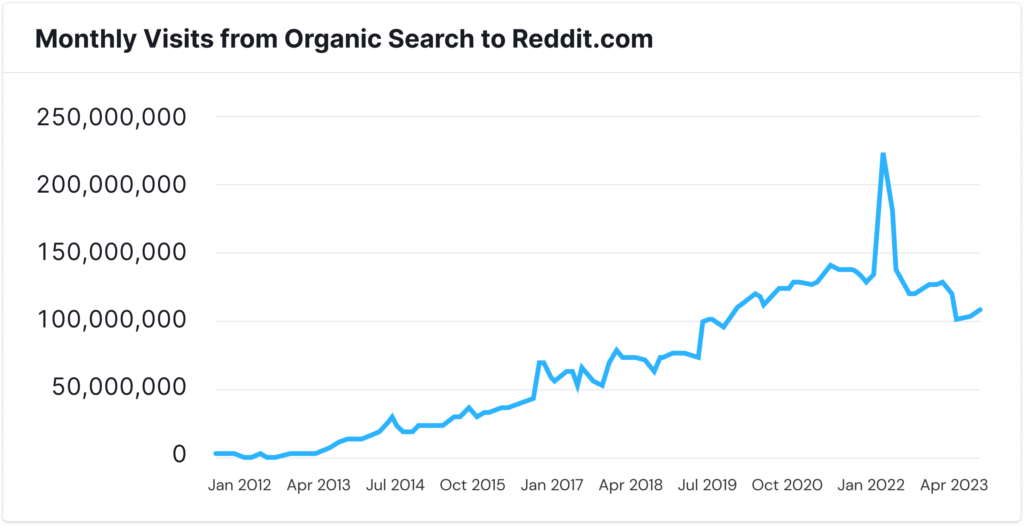 Organic U.S. traffic shown. Source: Semrush.
Data from Datos reveals the demographic profile of Reddit users, and it is similar to the profile of crypto enthusiasts I explored last month. They are overwhelmingly male. Roughly two-thirds are aged 25-34, and another one-fourth are 35-44. Precisely the young male audience that advertising in traditional channels such as televisions struggles to reach.
The action on Reddit takes place in subreddits, which are designed to foster conversation and community around specific topics. I looked at over 190 of the largest subreddits, and not surprisingly found they form the classic "long-tailed" distribution so characteristic of many aspects of the digital world. A few get significant traffic, and many get small amounts of traffic. This pattern is seen in keywords on Google, products on Amazon, shows on Netflix, etc.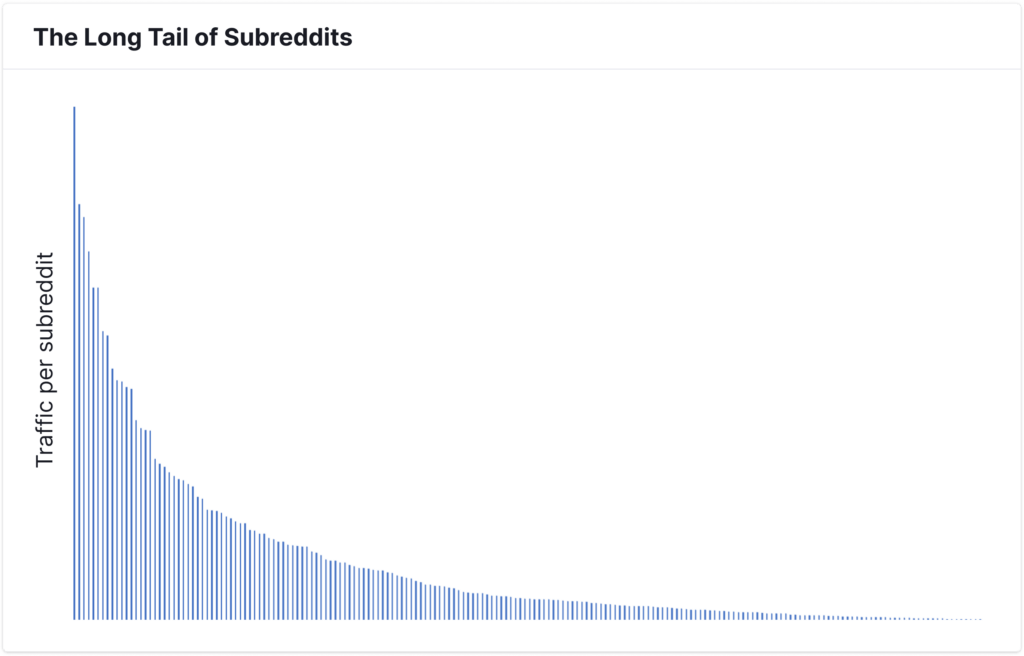 Source: Datos
Looking at the most popular subreddits reinforces the tremendous breadth of the site, with subreddits spanning humor, viral videos, technology, entertainment, sports, fashion and more. 
In terms of number of visitors, livestreamfail tops the list – viral videos of livestreams gone humorously gone wrong, reminiscent of the once-popular TV show "America's Funniest Home Videos."

 Fashionreps comes in third in terms of visitors, and first in terms of visits – this "fashionreplica" subreddit explores close copies of luxury fashion apparel, but not "counterfeit" in the sense that they are not passed off as the real thing.

Fashionreps averages ten visits per visitor, reflecting impressive engagement, but several game-oriented and adult-oriented sites score even higher on this metric.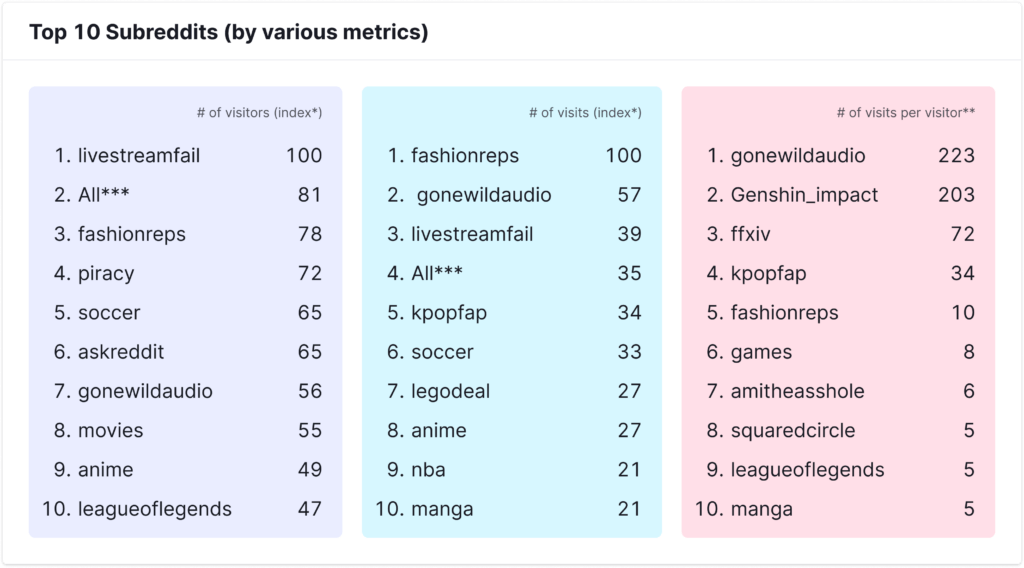 Source: Datos
* Index calculated so that top ranking subreddit =100. (Based on average monthly data from November 2022 through April 2023)
**Among subreddits averaging 10,000 monthly visitors or more
*** Note "All" refers to a specific subreddit; it is not the sum of all subreddits
Trending data for various subreddits goes in radically different directions, and reflect the chaos the site is currently experiencing. Gonewildaudio and kpopfap, for example, along with many safe-for-work sites, went private and their traffic evaporated. Other subreddits saw traffic growth through Q1 2023, and have tapered slightly, consistent with the overall trend in Internet traffic. Others, such as sports-related sites, show ebbs and flows based on their sports seasons. 
In the final analysis, Reddit has the potential to fill some of the (self-inflicted) void that Twitter/X is creating. But Reddit has to figure out some of its own self-inflicted chaos to do that.